"Be like water".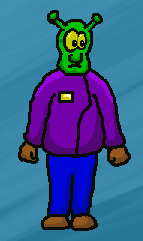 The lead character in "Alien Adventure".
That's right: I can't draw for crap.
But you should see how awful he USED to look !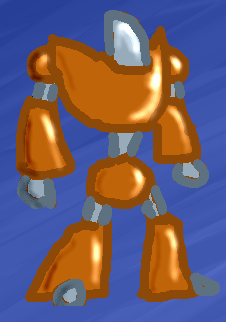 A quick sketch up of a robotty thing.
What it'll eventually be used for, I'm not sure.

An early version of one of the rooms you'll find yourself in
when you try to "Escape from the House".
Click here for larger version.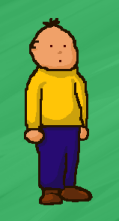 Turniphead, the star of "Turniphead Adventures".
His head looks vaguely like a turnip.
And I think that's awsome .
Random Stuff
(Apr. 3rd, 2004)
Here's a list of a few random things, including links to stuff that I've mentioneed to people through e-mail (but didn't want to fill your inboxes up with because I'm so freakin' considerate). Enjoy!
---
(Apr. 3, 2004)
Just in case no one's noticed yet, I can't draw feet. I'm working on it, but considering I've been drawing on and off for most of my life, it may be a lost cause. Oh well.
---