Water: what has it ever done for ME?
Mental note: don't keep this theme forever --
I'll run out of lame comments to use.
-ROB'S AMAZING PICTURES-
(just click on the thumbnails to get to the big versions)
(and yes, some of them are Vicki's too)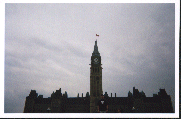 The main building of the Parliament in Ottawa
(that's me in front of it)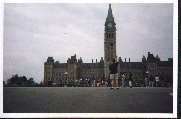 Me giving Parliament the finger
(an attepted re-enactment of the Loony...
unfortunately, we didn't have the actual coin there
as a reference at the time... next time... next time...)

The Eternal Flame, in front of Parliament (blurry, sorry)


A Phoon picture of me in front of Canadian Parliament
(What is Phooning, you ask? Click here !)

---
(NIAGARA PICTURES FROM MY FILM)

American side of Niagara Falls (I think)


Rob, close up, with Falls in back


The Approach (on the Maid of the Mist)


American Side (Maid of the Mist)

American Side (Maid of the Mist)


American Side (Maid of the Mist)
(VICKI'S FILM)

Looking out of a tunnel behind the Falls


Maid of the Mist, near the Falls


Us on the Maid of the Mist, minus Vicki


Vicki and I, all squinty in the misty wind
---


Rob in Toronto, on a bench by some pretty weeds

Rob and Vicki with mammoth milkshakes (we only know Metric!!)


Vicki (a bit blurry, sorry) with a sculpture/ fountain
---
(ANOTHER VICKI FILM)


Rob getting powdered candy stuff (in Niagara on the Lake)


Rob and Vicki in front of that Candy store (Candy Safari)

Vicki's so CUTE! =P
(Rob ducks Vicki's psychic slap!)


Rob, with a fort across the lake


Vicki, with a fort across the lake, and a feta-stuffed pepper in her hand

Vicki in Toronto, looking to a skankadelic sexshop
street lifeguard for guidance or directions


Rob in front of the Silver Snail

Vicki and her new boyfriend (wait 'til Bloom finds out!)


The Bishop and the Belcher pub in Toronto


Rob, outside of MuchMusic's studio


A great big totem pole at the Royal Ontario Museum (ROM) in Toronto


Vicki, with a statue outside the ROM


Vicki and Rob, wondering where Catherine is...


Catherine FINALLY arrived...
and Vicki, Rob and Catherine went drinking bubble tea
(Jeremey took this picture)

Jeremy, Catherine and Rob drinking bubble tea
---
SarsStock


Catherine and Rob at SarsStock in Toronto

Rob at SarsStock (with a blue finger)


Two guys who were looking for one of their sisters at SarsStock, actually sitting down for once!


Vicki and Rob, fatigued and at SarsStock
---
(ANOTHER OF ROB'S FILMS)


Catherine and Vicki at SarsStock

Vicki, Rob and Catherine at SarsStock


SarsStock stage
(why did I take so many of these?)


Catherine and Vicki at SarsStock
---


Rob and a sculpture, not too far from the Toronto Train station...


Vicki and a fountain, not too far from the Toronto Train station...


Vicki and vegetation, not too far from the Toronto Train station...
(yes, we missed the train...)
---


Vicki on our local "mountain", the Sugarloaf


Part of Campbellton
(where I pretty much grew up, and live now)


Another part of Campbellton
(I can see my house from here!)

Rob's parents' backyard

Special Bonus Image!
CLICK IT!!!

PLUS MORE TO COME OF PARLIAMENT
(and of other random stuff, too)
Picture pages, pictures pages, it's lots o' fun with pictures pages....
(Aug. 17th, 2003)
Heh, not bad. I put this badboy up and it's more or less working in less than 24 hours. Oh, the sense of accomplishment of me over technology. Of course, if would have gone alot faster had Tripod and this HotDog program not been wonky. I still have no idea why I'm unable to run a typical index page, but maybe that'll come...
On your left, you should see a ridiculously long column of thumbnailed pictures. Just click on them to see a larger version. It'll probably take a while for all of them to load, so sit back relax and be patient. (I figure I'll divide the photos up into sections or something eventually... that sounds like a sensible thing to do...)
Note, though, that not all of the pics are in chronological order. This is due to them being from different films, and my being too lazy to try to sort them out properly. Lazy. Eat it!
Also note that I've not yet checked through every picture. If any of them are broken or lead to the wrong picture, please let me know. Click here to send me mail!
Enjoy the pictures! There will be more to come in near future!
Bonus points to anyone who caught the Cosby reference for the title of the page, by the way. Extra bonus points if you know the rest of the words of the song (off the top of your head and WITHOUT looking it up on the Internet you snivelling cheaters!).
Thanks for stopping by.
(Maybe next time there'll be more to see...)