CLICK ON IMAGES
TO SEE LARGER VERSIONS.


Our three pumpkins.



Dad's Frankenstein monster,
which appropriately enough
had electronic eyes melded
with pumpkin flesh.








Mom's demon pumpkin.
(notice the two or three slugs
that started crawling in the eyes
and near the mouth in
some of the pictures!)









Mom's pumpkin and mine.

My skeleton pumpkin.
There was a couple of
bats to the side of the
skeleton, too.







Mom, dressed up all scary-like.

Elvis, with Mom.
("Don't be cruel, Momma.")


My cousin Clemis.



Uncle Jimmy, Mom, Clemis, Aunt Tanya and me.


A cowboy skeleton that
Jimmy brought along.
Click on photos to see larger versions.
Halloween 2004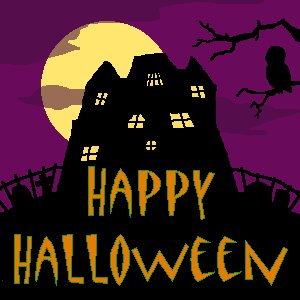 (Yes, I drew that, so don't steal it, sucka'!)

(Oct 31st, 2004)
Had a nice Halloween this year. Most of it was spent handing out treats to the kiddies, but it was nice anyway.
Leading into Halloween, we carved pumpkins this year again, with Mom, Dad and I each making one. Dad did a Frankenstein one, Mom did a demon one, and I did a skeleton and bats thing (mine was based on a picture I'd seen at Worth 1000, a pretty cool site out there that's WELL worth checking out to see some pretty awesome Photoshop skills at work).
Unfortunately, I didn't really do any going out for Halloween, but I did dress up on Friday for the grade 5 class party at the Campbellton Middle School. It was a lot af fun.
Oh, and in case you've not noticed yet, there's a bunch of pictures in that column on the left that you can click on. Do it, and MARVEL at our pumpkin-carving prowess! DO IT!
I may be adding some more pictures from Halloween at some point, so be sure to check in again sometime in the next few weeks.