"Be like water".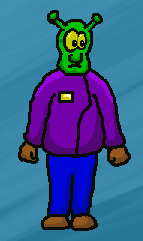 The lead character in "Alien Adventure".
That's right: I can't draw for crap.
But you should see how awful he USED to look !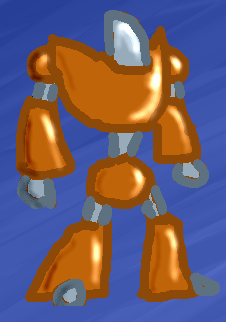 A quick sketch up of a robotty thing.
What it'll eventually be used for, I'm not sure.

An early version of one of the rooms you'll find yourself in
when you try to "Escape from the House".
Click here for larger version.
Current Game Projects
(Mar. 26th, 2004)
The following is a list of video games that I'm currently in the process of making.
The games are being put together with a wonderful, free program called Adventure Game Studio (made by the amazing Chris Jones). As a big fan of the traditional "point and click" adventures, I feel that the program will give me both the kind of format I desire and all the flexiblity that I'll need.
These are the games that I've started working on. I've not finished making any of them yet. Heck, I'm not even close. I'll let you know when that changes. Promise (none of the titles you see here will be the final names of the games).
-
"EarthBound Fangame"
-
"Caveman Game"
-
"Alien Adventure"
-
"Escape from the House"
-